What is USB File Resc?
USB File Resc is a small pocket program "freeware" that is used to remove and disinfect USB Extracted Disks (Pendrive) infected with shortcut viruses, recyclers and other types of malware. Not only does it disinfect your removable disk, it also disinfects your computer and stops those bad processes that generate shortcuts again.
You do not need to know programming, nor codes to disinfect your equipment, with a few clicks, the program does everything.
Tutorial:
Step 1.- Run the USB File Rescue software. (Preferably in Administrator mode).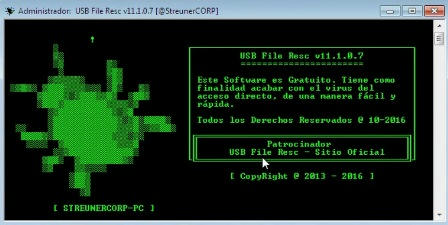 Step 2.- Choose and place the letter of the Removable Disk in the Program. (In my case it is the letter J.)

Step 3.- Press "Enter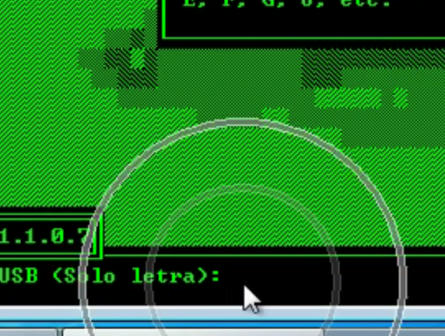 Step 4.- The program will eliminate and stop bad processes and eliminate the viruses that you have in the Removable Disk.

Step 5.- Ready !.

USB File Resc is committed to being up to date against the new threats generated by shortcuts, but we need the help of the general public to know what types of threats are giving you Headache and problems disinfecting your computer.

If for some reason USB File Resc does not work on your computer, perhaps for having a new virus, program errors or for some strange reason, do not hesitate to contact us.
What types of virus Removes USB File Resc?
Each time USB File Resc becomes more powerful, in each version we are adding new types of viruses. Here is the list of all viruses with USB File Rescue account
1.- 18356update.vbs 59656update.vbs 43312update.vbs 70692update.vbs 99357update.vbs 18356update.vbs 99357update.vbs 99357update.vbs 35566update.vbs 45141update.vbs 40263update.vbs
2.- Removable Disk (1gb) Removable Disk (2gb) Removable Disk (4gb) Removable Disk (8gb) Removable Disk (16gb) Removable Disk (32gb)
3.- Drive.bat y 1.bat
4.- AntiUsbShortCut AntiUSB AntiUSB.exe AntiShortCut AntiWorm AutoIt3.exe My Pictures My Videos My Documents
5.- Ejecutables, New Folder.exe. *.exe.
6.- TEMP_STRY_REGLOG
7.- my new photo edit photoshop.wsf, Download film.wsf, IMG-1750.wsf, new_photo_today.wsf, download film.wsf, new photo today.wsf, Mervy-CanadaPhotos.wsf, Download film.wsf, IMG-1337.wsf.
8.- Device Manager.exe, winmgr.exe
Contact networks to support USB File Resc.
Toolslib: You can get in touch through this page, in the part of the comarters or through this Thread.
Correo Electrónico: usb.file.resc [at] gmail [dot] com
Facebook: www.fb.com/USBFileResc
https://www.youtube.com/watch?v=zN2nA481yNI (USB File Resc v11. - Drive.Bat)
https://www.youtube.com/watch?v=9c6PBymMuus (USB File Resc v12. - AntiUsbShortCut)