MiniTool Partition Wizard Free Edition is a piece of partition manager targeting home and home office users. It owns comprehensive disk partition management functions for flexible partitioning, optimization and managing your computer. This high-performance tool helps make the optimal disk space distribution and ensure an ideal hard disk structure.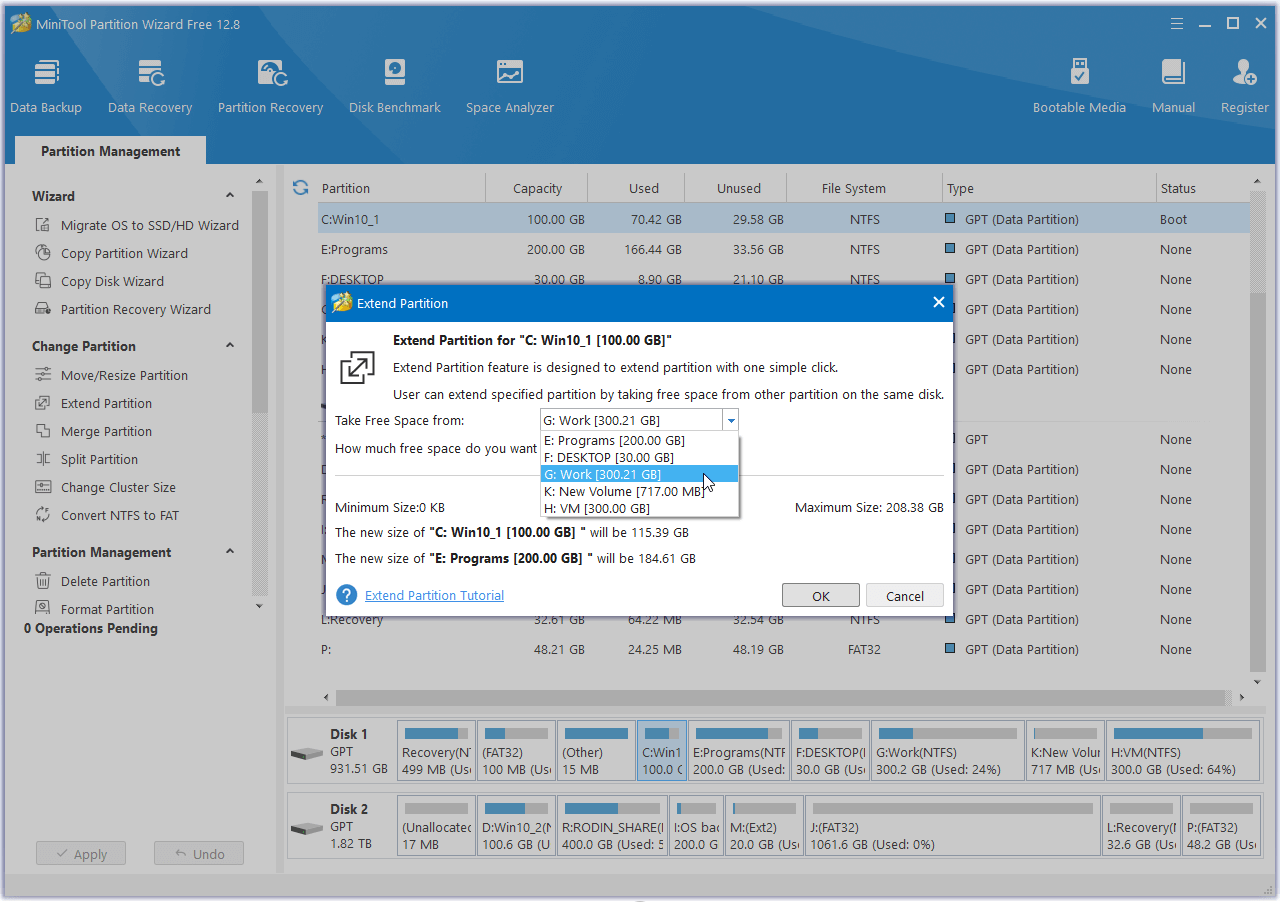 Main features:
Disk Partition Management
Create/resize/move/merge/split/format/delete/wipe/hide partitions to better configure disk storage space.

Disk Partition Conversion
Make conversion between MBR and GPT, Primary and Logical. Help convert FAT to NTFS.

Check Disk Partition
Check and fix file system errors on selective partitions and explore bad sectors on selective disks.
Highlighted Features

Convert MBR to GPT
3TB Hard Drive Only Uses 2TB? Windows cannot be installed on MBR disk? Convert MBR disk to GPT disk without damaging data.
Migrate OS to SSD
Is your PC running slow? Now migrate OS to SSD to speed up the machine and gain a better performance.
Extend System Partition
Your computer is running on low disk space? Partition bar goes red? This tool helps extend partition easily and safely.
Copy Disk
Mass of data fills up your hard drive? Copy the entire disk data to a large one for disk upgrade without OS reinstallation.
Rebuild MBR
Your computer gets unbootable due to damaged Master Boot Record? Rebuild corrupted MBR now to ensure the PC runs smoothly.
Additional Features
Move/Resize Partition
Enlarge a small partition to save more data or shrink a large partition to allocate some free space. Also help move partition location.

Merge partition
Merge two adjacent NTFS partitions into a bigger one without damaging data in either partition.

Format partition
Format partition to FAT, exFAT, NTFS, Ext2/3/4, Linux Swap so as to use the drive in different platforms.

Convert FAT32 to NTFS
Convert FAT32 to NTFS without data loss when you need to save individual files larger than 4GB to a FAT32 drive.

Set Partition Primary/Logical
Set partition primary to install operating system and set partition logical to create more partitions on MBR disk.

SSD 4K Alignment
Make sure all partitions on SSD are correctly aligned to speed up entire SSD and optimize PC performance.