MiniTool uTube Downloader, developed by MiniTool, is a free and no ads multimedia software. With it, you can use it to download YouTube videos to MP3, MP4, WAV, and WebM. It supports high-resolution video and high audio quality output. Users can also use it to download YouTube video subtitles.
Features of MiniTool YouTube Downloader Includes 
Free, no ads and no bundle – MiniTool uTube downloader is a free and no ads app that does not include any additional software
Unlimited free conversions and downloads – There is no limitation of video download by using this tool
Multiple files at once – MiniTool YouTube downloader can download up to 10 videos at once
Full speed download – Although it is a free tool, it will not limit the download speed
Download audio from YouTube – The free YouTube downloader is able to rip music from YouTube, convert YouTube to MP3, or convert YouTube to WAV
YouTube playlist converter – Download the whole YouTube playlist to MP3/MP4
Download subtitles automatically – MiniTool uTube Downloader will download subtitles automatically and save them as .srt files while downloading videos
Easy to use – It offers a simple and clean interface, making easily download YouTube videos
Download YouTube Videos in Simple Clicks
Paste the URL, select the file format and click Download button. Then, users can watch YouTube videos without connecting to any network.
MiniTool uTube Downloader offers different video and audio formats to choose from.
MP3
WAV
WebM (2160p, 1440p, 1080p, 720p, etc.)
MP4 (2160p, 1440p, 1080p, 720p, etc.)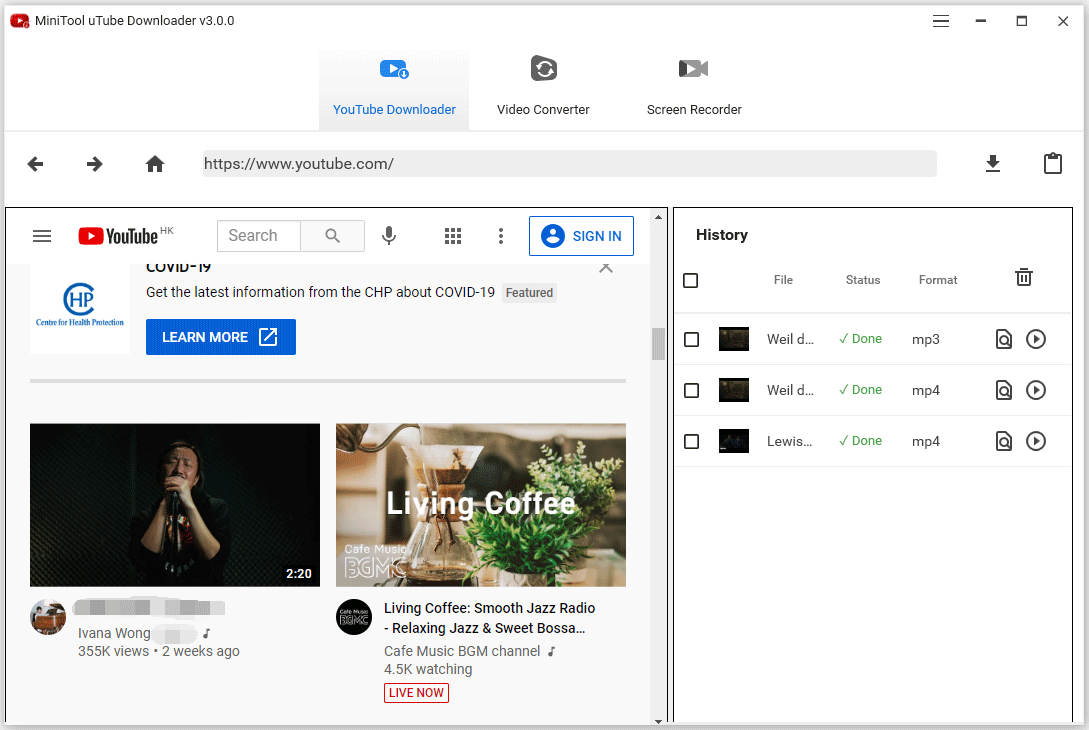 YouTube Downloader
With MiniTool uTube Downloader, you can download multiple videos at the same time to MP4, MP3, WebM, and WAV. Meanwhile, every time you download and convert a YouTube video, this free YouTube downloader will automatically download the original subtitles.
Main Interface Introduction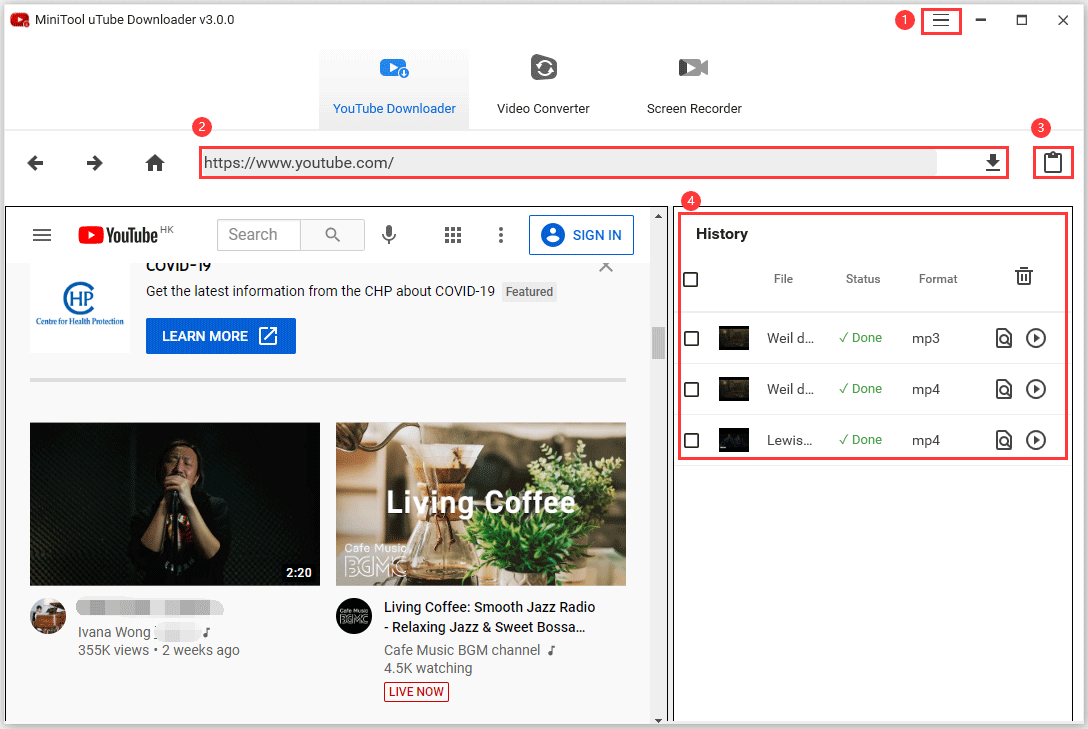 ① Menu
Getting into the software menu, you can:
1. Switch the software language: Choose the Language option and then choose English or Japanese.
2. Check the software manual.
3. Check the software information.
4. Give feedback to MiniTool.
5. Customize the download destination and the maximum number of concurrent downloads:
Click the menu icon at the top of the main interface and select the Settings.
Under the Download tab, set the download folder and maximum current downloads.
Reset or click OK to confirm all changes.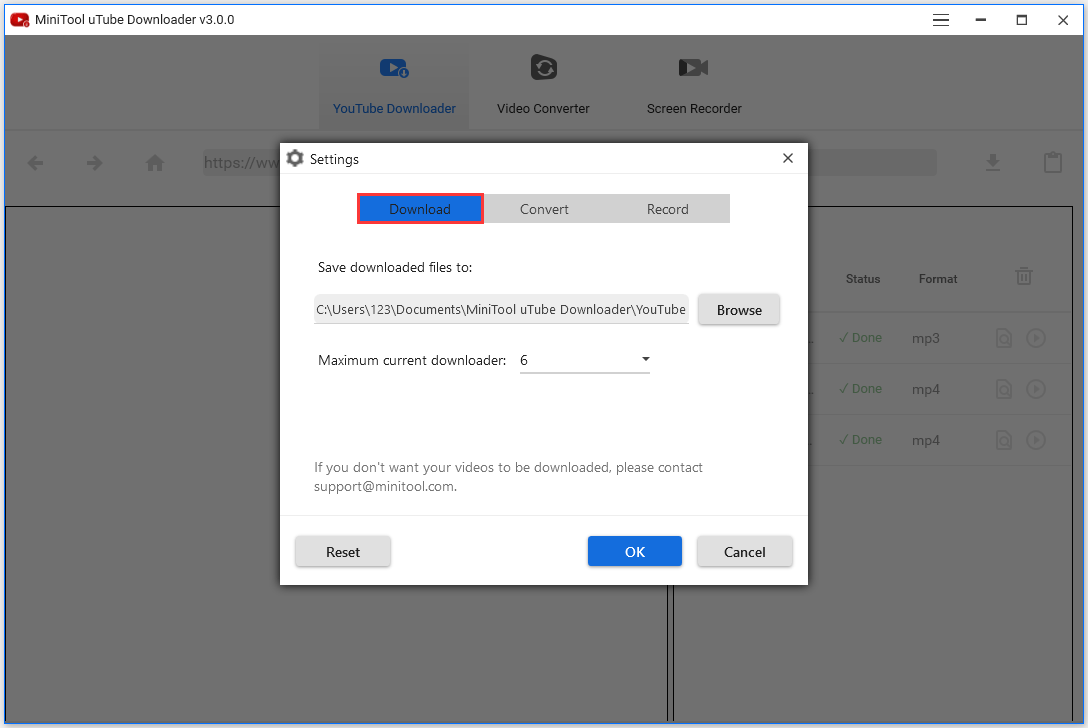 ② First Approach to Download YouTube Videos
The first way of downloading YouTube videos is by pasting the video URL in the search bar and then clicking the Download icon.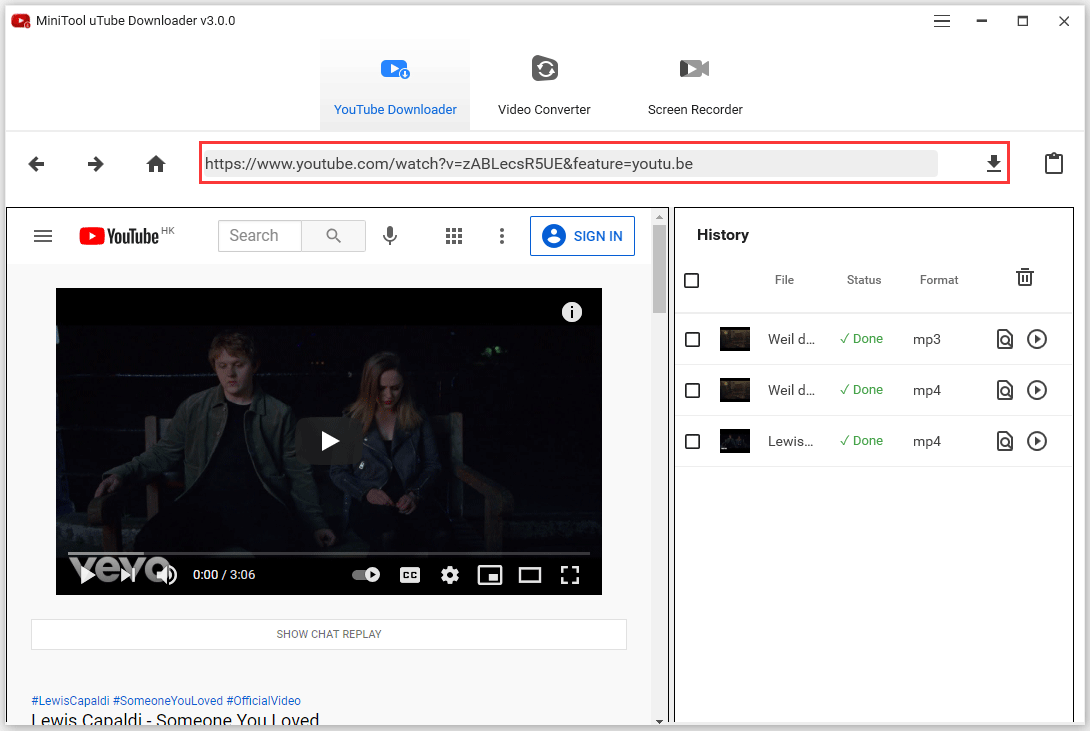 ③ Second Approach to Download YouTube Videos
There is a second way to download YouTube videos. Click the Paste URL button, type the URL of the video that you want to download, and click the Download option.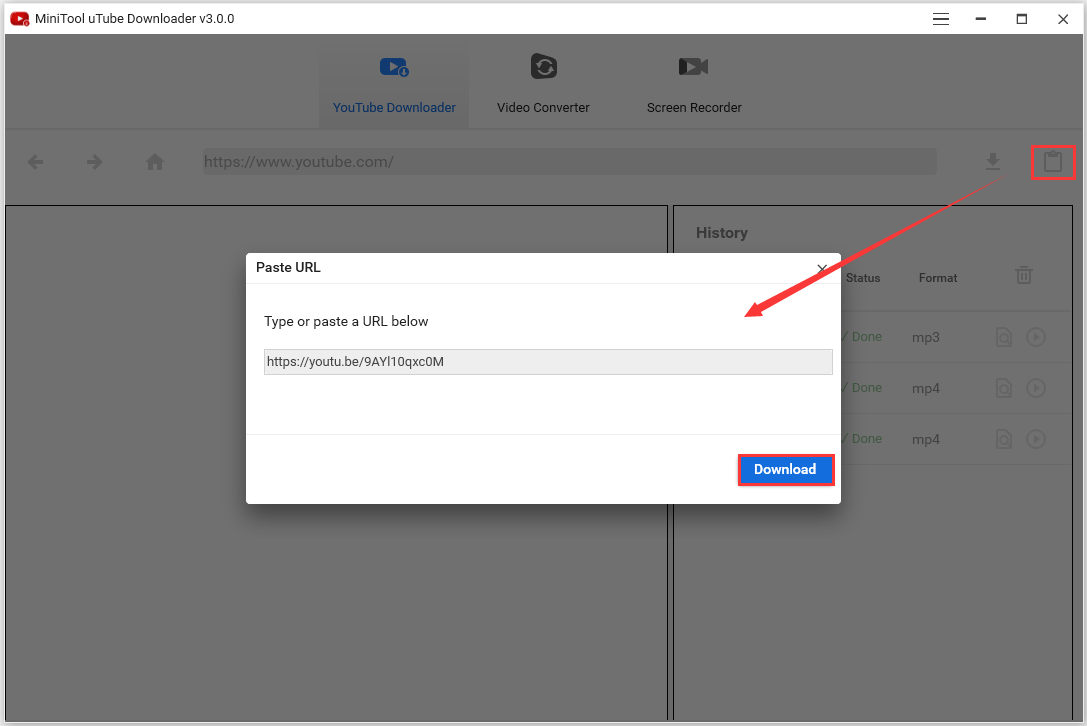 ④ Download History
The download history should appear on the right panel when there is any download task. This part shows the file name, download status, and file format. When a downloading process finishes, two more options are provided — Navigate to file and Play.
In addition, all download history will be automatically saved here and you can clear it manually:
To clear one or multiple downloads, tick the box(es) in front of the download(s) and then click the Delete.
To clear all downloads, either tick the box under History and then click the Delete icon or right-click the empty area in the History zone and then choose the Clear finished downloads.